TriumphTR7.com is pleased to say that Moordale Motors (Potters Bar, Hertfordshire) are carrying out the extensive restoration work required on the star of this site TRisha TR.

Since 1985 Moordale Motors have steadily built a reputation for quality work on the Triumph Marque, growing from a Hobby and a love of all things Triumph (4 wheeled variety), they are now well respected by Triumph owners and enthusiasts across the UK and further afield. It doesn't take long, on meeting Dale and the guys, at Moordale to realise that they have a real affinity for the cars and a genuine desire to see the Marque on the road. And not just on the road, but on the road looking good.

It was this enthusiasm, coupled with good reports and the quality workmanship on show (there was an old Herald in the workshop approaching the end of its restore) that swung it for me and lead to me trusting them with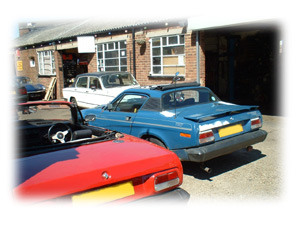 TRisha TR.

Any major work undertaken by Moordale comes complete with a photographic history of what was done - which you can show off at the next TR show and, more importantly, can be used to pad out a website that you may have put together to pay homage to your car (or maybe you could use the photographs for insurance purposes!) If you wish to view previous restorations you are most welcome to view their portfolio down at the workshop.

The Company operates an 'Open Workshop' policy which basically means that you are encouraged to drop by to see how the work on your baby is progressing. Whenever you do drop by you are made to feel welcome and the guys are only to happy to talk about progress on your car, or even about past horror stories (no matter how bad your car, they have seen worse!)

Moordale Motor's are not just about Restoration work though - they offer everything from Crypton tuning, servicing, repairs, MOT's and evaluations. So no matter what work your TR7 needs it's worth giving Dale a call to discuss those requirements.

For more information contact Dale on 01707 650284 or pop along to:

Rear Of 18 Barnet Road
Potters Bar
Hertfordshire
EN6 2QS
or visit their website.