Firstly an apology from www.TriumphTR7.com - to those of you you may have been annoyed at finding an advertising flyer, for this website, tucked under your wipers!! We did try and speak to a fair number of people asking if they'd like a flyer before depositing them there.... however there were quite a few cars and the beer tent was inviting!! The flyers were distributed without the clubs permission, so we do hope no one was offended! And besides - we did provide some entertainment in the afternoon (more on that later).

Rather annoyingly TRisha TR was unable to make it - the guys at SS Preparations managed to get the recon engine down to us with a week or so to spare; unfortunately a lack of communication from the mechanic and some teething problems prevented the car being ready on time. So it was the debut for Priscilla (or 'Pris' - named after the Bladerunner character) Probe - ahhhhh some of you have guessed the entertainment.

If you've never been to Billing, in a nutshell, it's a rather large park based around some man-made lakes/ponds etc (you may have guessed the water content by the clue in 'Billing Aquadrome'). There's lots of caravans, and field space for hire and it's a popular destination for car clubs. On the Sunday I spotted (what looked like) a MKII Cortina meeting - with a TR6 in the line-up(?!), a well-attended Capri Owners group from Milton Keynes and a small (4) gathering of Austin Princess/Ital Ambassadors.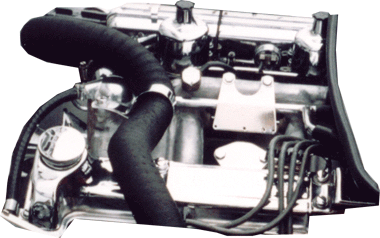 I think the owner of this engine (which was in a car.... just in case you were wondering!) may have been offended by my "...far too much time.." comment. Ooops. No apologies from us though - we like to see the Wedge on the road. Shiney engines are all very well but a regularly used car would butter my muffin ahead of any pristine, showroom condition vehicle. Which is why I quite liked, amongst others, Rusty's DHC which made the journey up from Kent. Well I may have liked it but the car which we thought was his turned out not to be. Doh! Anyway the 'worst car at show' challenge never materialised..... due to TRisha's absence (And anyway Rusty there was one in the concours - !! - which was truly awful..... what were they thinking about with those rear fogs?)

Whilst there we had a good chat with Rick from S+S Preparations - who tried, unsuccessfully, to flog us an electric window kit (maybe when the restoration gets underway hey Rick?). After the many phone calls of late it was good to be able to put a face to the name..... no doubt we'll be chatting again soon when TRisha hits more trouble!

What did surprise me on the day was the lack of really modified TR7s - previously there has been home-made body kits (ie the green one in the gallery), and some of the more daring Grinnall cars. This time around there were a few with wider wheel arches and very worringly - lots of USA spec rear bumpers! At www.TriumphTR7.com we like the original shape so wouldn't modify too heavily, however that's not to say we're not averse to seeing some outlandish changes made!

And unlike in America - where the Wedge is becoming rather a 'cult' car amongst the 18-25 year old age range [Brad - Wedgeparts.com] - the people in attendance were generally from their 40's and upwards..... hopefully, with events like the National Weekend at Billing (where other groups are in attendance) we can create an interest amongst younger people and thus ensure that the car and the TR Drivers club thrive. It was certainly in evidence that the V8 sound turned more younger heads than the whine of 2.8i Capri's!!

We didn't count the number of cars, nor did we get any statistics on FHC vs DHC though it was very obvious that the latter are more in evidence than their older stablemate. We all know that DHCs are more desirable (accept in the TriumphTR7.com offices), but the volume of DHCs compared to the FHC is still surprising when looking at the Triumph build stats of the two vehicles. The split between 'occassional' vehicles - we all know the ones - and everday cars was about 50/50. The car below (which is obviously not Rusty's - as his has not got the wheel centres!!! How we missed that I don't know! ;-)) is not perfect but it's a delight to see this sort of TR7 at these events.... does everyone else leave their's at home until after the restore? The rebuild of TRisha may be put off another year just so that she can be the biggest nail at Billing!.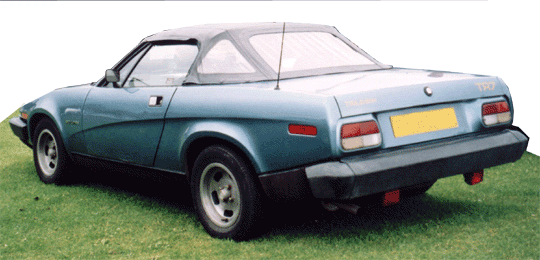 There's a few more cars in the gallery - not as many as we'd hoped for, this was due to a slight 'technical' problem with the digital camera!

And the entertainment? Well no TR7 day out can be complete without a road-side rescue service putting in an appearance can it. On this occasion it was the RAC.....

RAC Operator: "And what seems to be the problem with the car?"

Car owner: "Errr, nothing it's a problem with the muppet who's driving it." Have a laugh on us and read about the terrible event which was the TR Drivers club unplanned sideshow!

The best car in the show for us.... it won by a country mile really. Yes it was a FHC (always an advantage), it was in the concours and it was built at around the same time as our very own TRisha. Have a look at Rod's red 1976 FHC in the gallery.

See you all at next years event? Surely TRisha will make it then? Meanwhile if anyone would like to invite us to similar events in Italy, USA or Australia send us the details and the flight tickets and we'll be there!