The Restoration of TRisha TR

The First 6 Weeks
Six weeks into the Restoration and how are things going? Well we're a bit over budget now and Mr & Mrs Tin Worm had been munching more than initially thought. I reckon it'd be worth pointing out at this juncture that before any work started, actually before I even sought quotes for the work, that I knew full well that the restoration was economical madness. It would have been cheaper to get another TR7 - even if good FHCs are thin on the ground - and restore that. But that would be missing the point! I've always loved the TR7 (more so the FHC) but another FHC would just not feel the same as TRisha... TRisha comes with a lot of history!! Most of it in a Northerly manner as she was very fond of breaking down if ever we headed South!

So "How is the work going?". The front of the car is basically sorted as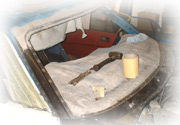 is the Drivers side of the vehicle. This has entailed a full windscreen surround(right) - which exposed rotting (below, left) far worse than I expected!! Autoshield would not have been able to fit a new windscreen in this vehicle, such was disintegration. The rear-panel on the driver's side also provided much fun - if you are twisted. The panel was a 'mare. Ultimately it would have been more cost-effective to repair the panel, rather than replace it... and I caution against going down the replacement route if you are contemplating this action (drop me a line if you need to know more).

What else? Well the rear deck wasn't nice either - so much so that that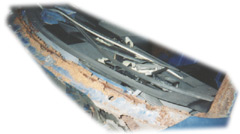 episode has it's own page! As a result TRisha now has a custom fitment for the fuel intake - this was mooted initially but we all felt fitting the part from a late model would be cheaper... yeah right! What I will say is the guys at Moordale have solved the problem after a painful week or so of toing and froing.

Work has now started on the passendger (left) side of the car. The A-Post has been sorted out and the sill prep-work is largely complete. It may be necessary to remove the front wing to effect repairs within the footwell - again extra cost but there's no point in bodging it or only doing half a job. In fact a little horror was found within the footwell - in the bulkhead area a steel plate was unearthed which wasn't welded in! This plate had been 'wedged' (no pun) into place. What it was meant to be doing I don't know, probably it was to block a hole but why it was done in this manner I have no idea.

The turret on the driver side has also been replaced and (does this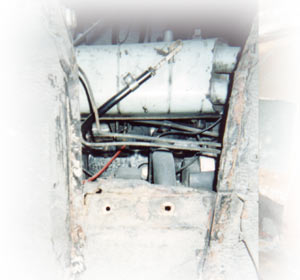 surprise you now?) more horrors were unearthed. If TRisha wasn't being restored at this moment I would still have been tanking along twisty, bumpy country roads - those of 'B' and 'Unnamed' flavour. Which makes the fact that the engine mount was being held in by one bolt very worrying! (pic shows a view with the turret removed!)

There's plenty more to tell but I shall leave it there for now... after 6 weeks I'm very happy with the work that has taken place thus far, annoyed at some avoidable issues outside the control of either myself or Moordale, shocked at the extent of the rust in some areas, and surprised that the co-pilot hasn't bemoaned the loss of a new kitchen!!!

The gallery of 'work in progress' is being added to frequently, both the digi-cam and the scanner have been working overtime!